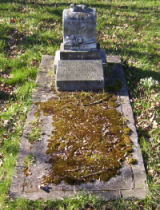 Years ago I received an e-mail from a women about a matter on one of my websites. In the signature area of her e-mail, there was a memorial link to a child who had passed away. I clicked on the link and on to my screen appeared a very nice web page telling the story of her daughter's life and death - and a pop up window with an ad promoting a scantily clad music star: unfortunate.
It was at that moment I decided to develop an ad-free site where people could put up memorial pages for their passed loved ones - telling their stories of the difference Jesus made in their life in this world. Out of that initial idea this site arose.
AsleepinChrist.org is your place to not only remember your loved ones, but also to inspire others with their story of faith in Christ and Jesus' faithfulness to them.
Putting a story on this site is by a one time donation that you determine the size of. This allows us to keep the site ad free.
As we redesign our site, you can contact us through This email address is being protected from spambots. You need JavaScript enabled to view it.
We ask for a donation to put testimonies on this site because we personally work on each page and after a while we get hungry and we have to pay for food.
Seriously, we don't think that this site should have advertising on it to help pay for the site expenses and time spent working on it. That would be tacky.
However, we don't have a set donation amount because we want everyone to be able to share their loved one's story - even if they aren't rich. So you can donate an amount that combines your heart's desire with your wallet's reality.
We believe that the Bible is God speaking in man's language, and in the original writings is exactly as He gave it, word for word without any error whatsoever. It has been preserved by God to be the authoritative standard for every age and every life.


We believe that God exists in three persons, the Father, Son and Holy Spirit, that these three are eternal and are one. We also believe that God is the sole Creator of the universe.


We believe that Jesus Christ in the flesh was both God and man, that He was born of a virgin and that He lived a sinless life, in which He taught and did mighty works and signs exactly as revealed in the four gospels. I believe that He was crucified, dying as a penalty for our sins and was bodily raised from the dead on the third day as the scriptures declare. Later, He ascended to heaven where He is Head of the Church and intercedes for believers. From there He will come again personally and bodily and visibly to this earth to set up an earthly kingdom, afterward to reign forever as King in His universe.


We believe that all are sinners and are guilty before God, and as such are worthy of both physical and spiritual death.


We believe that since in His death the Lord Jesus Christ satisfied all the demands of God's law, redeeming mankind by shedding His blood and assuming our curse, men and women can have a just standing before God. That is, they can become true Christians. The single basis for this standing is the death of Jesus Christ and an individual's personal faith in Him.


We believe that salvation with its forgiveness of sins, includes the receiving of a new nature and the assurance of eternal life. It is entirely apart from good works such as baptism or church membership, but is purely by God's grace.


We believe that a true believer cannot ever forfeit his standing with God. However, sin may interrupt the joy of his fellowship with God and bring the discipline of a loving Heavenly Father.


We believe that the Holy Spirit is a person, that He is God and has all the attributes of God. We also believe that He lives in all believers and that by His ministry every Christian is made to be part of God's eternal family, is marked off as truly God's possession, and is specifically and uniquely gifted for Christian service. The Holy Spirit also fills or empowers the believer, in response to confession of sin and yieldedness, then He teaches and guides the believer for effective Christian service.


We believe that all genuine believers are together part of the true Church, which in scripture is referred to as the body of Christ, and that a local church is intended to be a visible expression of this body.


We believe that Christians who die, depart to be with Christ in conscious blessedness. Someday Jesus will come again and take away His living people from the earth. Then, all Christians will have glorified bodies similar to His resurrected body and share in His glory. They will reign with Him forever.


We believe that Satan is a personality, the arch enemy of God and our defeated foe.


We believe that those who refuse the offer of God's gracious gift of salvation are doomed to suffer eternal conscious separation from Him.

Do you have a story about the difference Jesus made in the life of a loved one or friend who has passed? Here's how you can have it added to this site.
1 - Type the story out. Don't worry about its length as there is lots of room on the site. Please make sure that the story is set up with paragraphs and please no stories that are typed in ALL CAPS (the equivalent of yelling online).
2 - Once you have the story typed out, e-mail it to us through the submission contact form (click here) or send it to This email address is being protected from spambots. You need JavaScript enabled to view it.. Please put the name of the person you are remembering in the subject of the e-mail.
3 - Make a donation (click here). You may be wondering why this site isn't free or how much to donate. It's all explained on the donation page.
4 - Pick a few pictures you might like to include with your story (Currently we are limiting the number of pictures appearing with stories to 3). After you submit your story and donation we will e-mail you the address you can e-mail your pictures to. Again, remember to include the person's name in the subject of each e-mail. If you have pictures you wish to include, but you do not have them in a format that can be e-mailed, contact us for some suggestions on other ways to get them to us.
Once we receive your e-mail(s), we will get to work on this end and set up a nicely layed out page that tell's your loved one's or friend's story.