You may now listen to Charles' funeral by clicking here
.
Links to recordings of Charles singing and preaching are at the end of this article.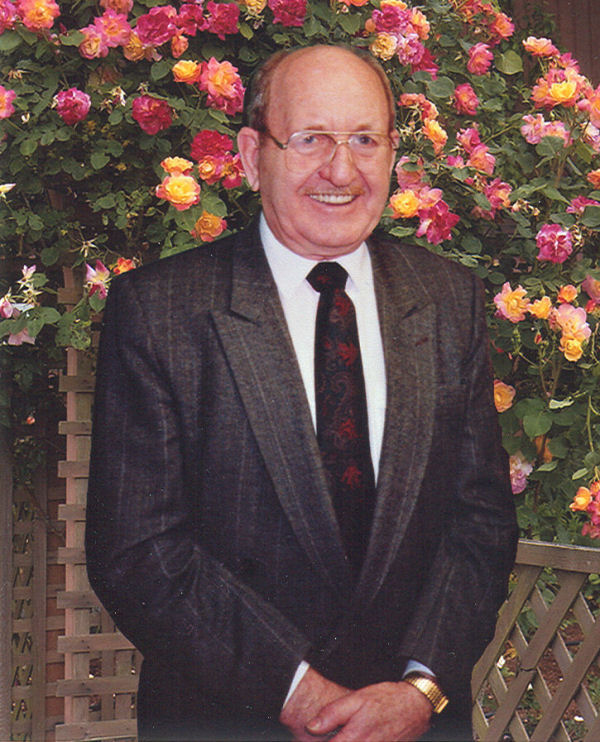 Charles Ross McKnight was born May 18, 1928 in Rosetown, Saskatchewan to Ross & Ida McKnight. His early years were spent on the farm at Gunnworth, Saskatchewan. He loved to talk about those early days, growing up with 2 brothers and four sisters. Life on the farm was not easy and many sacrifices were made just to be able to put food on the table. He learned the meaning of Hard Work.
His Mother told of the time when Charles was just a baby and had his first experience with the perils of life in the form of a hailstorm. What happened was that Mom has just laid both Charles and his sister Marjory on the floor for their afternoon nap. Dad was in the field with the four-horse team when suddenly, a fierce looking summer storm arose. Mother could see dad unhitching the horses and beginning a quarter-mile run for the barn shelter and also noted that the barn door was only half open, not nearly wide enough for four horses! She quickly ran from the house, opened the door just as the horses and the hail arrived together. Mother and Dad were trapped in the barn for several minutes til the hail ended. She returned to the house to discover that the hail had broken a window and the shattered glass lay all around, and upon Charles, but he never suffered one scratch!
He also began taking instruction in one of the pleasures of life at the age of 6: smoking. His uncle Bruce, being four years older and very worldly wise, taught Charles and his sisters Marjory and Pearl how to make a cigarette from straw! Of course this had to
be done beside the straw pile! While Marjory and Charles were at school, Pearl decided to be really helpful and took an entire handful of matches out to the rendezvous point. She, however, dropped several matches along the way. Mother saw some of them, alerted Dad, who then caught Pearl who readily confessed. You can only imagine the surprise that Marjory and Charles got when they were greeted by some Tender Loving Care upon arrival from school. Four or five years later Charles again tried the smoking routine and received an hour smoking Dad's pipe for his troubles. Talk about sickly green!
He left home at the age of 16 to make his own way. He worked at a dairy farm near Rosser in the winter and on grain farms in the summer. During this time he developed his love for horses, which of course, were means of transportation and for farm work in those early days. He purchased some land at Oak Point which is still in the family. He also spent one winter cutting and supplying cordwood for the Oak Point school.
In later years, he worked as a hoistman at the Pickle Crow Goldmine. He worked there for a couple of years and then left to marry his first wife, Katiebelle. It was then that Charles accepted Jesus Christ as his saviour. After 9 months of married life, he lost his wife to complications during pregnancy. After experiencing this loss, he headed back to goldmine to make some money to pay off some debts. In 1957, he left Pickle Crow for good to complete his Diploma at Winnipeg Bible Institute. During that time, he met and married his second wife Barbara Stoesz.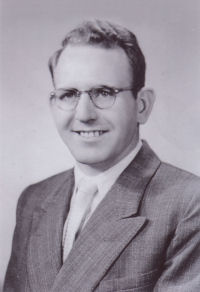 Upon completion of his Diploma, he began his work in the ministry with the Associated Gospel Churches. The first pastorate was in Spalding, Sask., then on to LacVert, Saskatchewan, Langbank & Hazel Edge, Saskatchewan and then to Carnduff, Saskatchewan, and Pierson, MB. This latter was an interesting pastorate as we lived approx 19 miles from the MB border and ministered to 1 church in Saskatchewan and 1 church in MB. When the time changed to or from Daylight Saving time, so did the order of the services. Then Dad liked to say that he saw the light, in the form of a church call, and we all moved to the West Coast.
He pastored the church on Gosworth Road in Victoria from 1975 to 1983. Also during that time, he held monthly services at the Aberdeen Hospital. In 1996, he was awarded Honorary Life Membership in recognition of outstanding service to the Juan De Fuca Hospital Society. Even after retirement, he continued to minister to the seniors there. Along the way dad was still involved in mission support, through African Inland Mission and Park Services Ministries.
His life was re shaped with-out connection to the ministry. He managed various apartments in the Victoria area and again always had an interesting story or two to tell about some tenant. He also worked at various other part time jobs to supplement his income. His time with the Community Living Association gave him a different perspective working with the handicapped. Working at McCalls, used all his past skills learned while in the Ministry. I think he was considered the jack of all trades. If they needed someone to preach, they could call Charles. If they needed someone to play the Organ - well Charles could do that too. He worked at the front desk and had to adapt to the computer age, even processional cars & ambulance driving were not impossible for Dad. His latter part time job was working at the gate at LumberWorld. He was proud of the errors he was able to catch and always felt that he earned his keep. Chatting and making new acquaintances were what Dad loved best about that job. Dad also enjoyed antiques and stories of his youth. Dad had an eye for an antique sometime even through the rubble at the junk yard. You could catch dad ready for a story about his childhood at any given time.
Charles and Barbara had 5 children during their 44 years of marriage. Barbara Mae was born while they were still in Winnipeg, MB. Eleven months later, Robin arrived while living in Spalding, Saskatchewan. The following year, Sherrie made her appearance. A few years later Bruce was also born in Spalding. One more son, Tom, was born in Langbank. The band was now complete. Music was always considered to be very important in our lives. Once in school, the piano lessons started, and from there numerous other opportunities in music. Dad felt he had a somewhat talented family, and the churches always seemed to get the package deal. Charles' musical training began in the school band at Gunnworth, and while working for farmers in that area he took piano instruction from his Grandma Dentith. While living in Winnipeg, Charles took organ lessons at Elim Chapel. His passion for organ followed him throughout his life. After playing in numerous churches, he was the Organist for many years at Elk Lake Baptist Church. Most recently, he attended Westside Bible Church and knowing how he loved to play, the church found him an organ so that he could contribute to their Sunday Morning Worship.
Dad was proud of his Kids accomplishments, whether it was Bruce learning to play the Saw, Sherrie travelling the world for all of us, Barb playing the organ & the piano, Robin learning the grocery business, and learning to raise his first grandchildren or Tom moving away to discover the lumber business. Dad loved his kids and all of their accomplishments!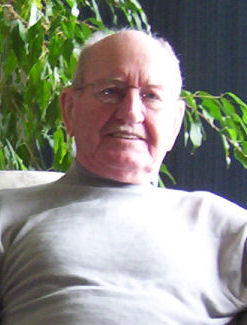 The last several years since mom's passing made it necessary for Dad to lean more on his family. Ryan and Teri were a source of help to papa: whether the occasional house cleaning, mowing of the lawn or even weeding the garden. Dad loved "working the land", but had trouble with this later in life. He loved spending time with his grandchildren, and would make a special effort to meet for lunch or coffee whenever it was possible. He fondly talked about his grandchildren and boasted about them at every opportunity. Dad also carried on a mission work that Mom had started selling daffodils. They both worked at this to support missionaries in Russia. The Ham's were very thankful for this support, and even though they are not in Russia any longer they still talk fondly of the letters, cards and support.
Charles was predeceased by his first wife Katiebelle (nee MacDonald) in 1951, his father Ross in 1984, his son Robin in 1987, his mother Ida in 1994, his son, Bruce in 1994, his wife Barbara in 2002, his sister Marjory in 2005, his sister Pearl in 2007. He is survived by his 3 Children, Barb, and her husband Harry, Sherrie and her husband Mike. Tom and his wife Rhonda, his daughter-in-law Tammie and her husband Charlie, as well as 7 Grand Children, Ryan, Teri, Alexander, Ashton, Natalie, Robynn, and Taylor. The children would like to extend a heart felt thank you to his daughter-in-Law, Tammie, and her husband Charlie who lovingly opened their home and cared for Dad in his last months. He will sadly be missed by all of us!
Here are some audio links where you can listen to Charles singing or preaching:
Charles Singing "That Old Rugged Cross" at Elk Lake Baptist, 2005
Charles Preaching at Westside Bible Church on December 4, 2004
Charles Preaching at Westside Bible Church on May 15, 2005
Charles Preaching at Westside Bible Church on February 19, 2006
Charles Preaching at Westside Bible Church on December 17, 2006
Charles presents Westside Bible Church with Wall Art from Gosworth Road Days