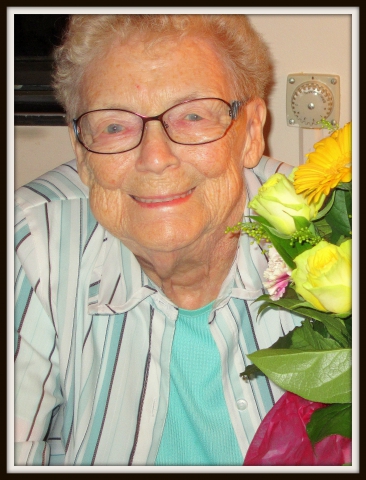 Jean Robertson (Smith) was born and raised on a farm in rural south western Ontario. She was a hard working, farm girl with two younger brothers. After completing high school, Jean married Basil Smith and together they welcomed four children: Marian, Frank, Jeanette and Diane.
Some of Jean's married years were spent in the Ottawa valley area but mostly, she lived in and around the communities of Watford and Alvinston, Ontario. She raised four children while also having a busy and interesting career. She was in charge of production for a manufacturing plant for over 30 years.
As her children became adults and Jean was widowed, she became more involved in service groups around her community. She volunteered with the Legion Auxiliary, Alvinston Baptist Church, Brooke Alvinston Fair Board and with Watford Minor Hockey.
Upon retirement, Jean moved to Victoria where her daughter, Jeanette, was already living. In Victoria, she quickly found ways to assimilate into the community. She worked part time at the Oxford Castle Inn and volunteered at the Royal British Columbia Museum for over ten years. In addition, she worked with Esquimalt Silver Threads, North Park Manor and Victoria Police Museum. She helped out where she could at First Baptist Church.
Jean is predeceased by her parents, Lillian (McKercher) and Gerald Robertson and brother, Bruce Robertson. Jean is survived by her four children: Marian McCutchen (Don) of Edmonton, Frank Smith of Sarnia, Ontario, Jeanette McMillan (Dennis) of Victoria and Diane Beecroft (Mark) of Spruce Grove. Also survived by grandchildren: Michael Smith (Megumi), Christine Smith, Inar Hansen (Crystal), Jana Wastell (Owen), Andrew McMillan (Lara), Cara McCutchen, Tawnie Brook (Ben), and great grandchildren: Alexandra, Jorja, Reina and Laim. Jean is also survived by her youngest brother Keith Robertson (Marg) from Windsor Ontario.
You can listen to the audio from Jean's Funeral here:
{audio}images/S/smith_jean/fn20140506_Jean_Smith_Funeral.mp3{/audio}